Welcome to the Okanogan Highlands.
We moved to our current location in late summer 2011, to be closer to Ernie's father, and farther from city traffic. (We are more than 3 hours from the nearest airport/Amtrak station, and a solid days' drive from Seattle or Portland.)
As we made the transition, we were lucky to have the support and mentoring of Ernie's folks, who have built a lot of homestead infrastructure in their 20 years on site. Ernie's dad knew the area from hunting and fishing in his youth. Erica's family had not spent time in this particular area, but their Mazama-style mountaineering tips turn out to be surprisingly useful just getting out the driveway in winter.
The Okanogan Highlands are an unusual spot. The challenging climate breeds hardy, creative, and self-reliant souls. (It also chews up and spits out the shattered dreams of unwary optimists, who may not anticipate or research the unwritten costs of "cheap" land.)
Our Okanogan County Commissioners publish this long list of notes for prospective land-buyers: http://www.okanogancounty.org/Commissioners/Live%20in%20OKANOGAN.htm
One of our best friends moved here about the same time, from past farming and fire-fighting experience in Olympia WA and Reno NV.

The "Okanogan Permaculture Study Group" she helped start has been a great resource for learning from experienced local farmers, community organizers, and like-minded new folks who want to work with, not against, natural forces on this land. Public discussion, and links to join the private email list, are available on www.permies.com:

- "So you want to buy land in the

Okanogan

..." https://permies.com/t/53659/Buy-Land-

Okanogan

- Okanogan

Permaculture Study Group: https://permies.com/t/53453/

Okanogan

-Permaculture-Study-Group
Land and Climate:
The World Wildlife Fund recognizes a special category for "Okanogan Highlands" as a unique biological region. If you prefer Koppen-Geiger soil and climate analysis, our place on the boundary between semi-arid scrub-steppe and conifer-forested highlands is similar to parts of Kazakhstan and outer Mongolia, and perhaps parts of the Armenian Plateau.
By contrast, the Puget Sound and Seattle bioregions enjoy a fecund, damp, coastal climate similar to Belgium or Devon, England.
Below us, the Okanogan Valley is more arid than the East Cascades, average annunal rainfall about 12 inches, and not reliable in any given year or season. Steep glacial valleys create interesting weather, with fog and cloud effects alternating between valley and hills. Most farms and orchards subscribe to seasonal irrigation systems sourced in upland rivers or lakes. The terrain, water availability, and soil types change dramatically as you cross the valley. One side has alkaline limestone lakes, the other has rugged granite dome outcrops. Both sides have swift-draining sand-and-gravel glacial benches marked by grass-and-sagebrush slopes with few trees, aside from the occasional irrigated orchard on the flat, bench-like tops. (For a great annual geology tour, and other local wildlife and ecological updates, check out the Okanogan Highlands Alliance: www.okanoganhighlands.org/)
Our own family micro-homestead is up above 3000 feet (1000 meters) in the highlands. Highland winters have deep snow, cloud-forest frost patterns, fascinating seasonal weather changes. Crisp, sunny, blue-sky days; sparkling, cold, starry nights; and periodic fogs where we are literally in the clouds you may be looking at for your sunset.
We look for plants hardy to USDA zone 4, although it's possible to find micro-climates in the 5 to 7 range, because winter low temperatures are often known to get down to -30 F (-35 C). Winter conditions call for responsible, plan-ahead type work: a good firewood supply, solid snow-plow or shoveling arrangments, and intelligent pantry management (start with 2 weeks; work up toward a full season or full year).
In summer, the combination of Mediterranean-style dry summers and intermittent thunderstorms of the basin-and-range/Rockies weather patterns means that some summers we get no rain for three or four months straight. Others might have 1/2 inch per month. Our "fire ecology" is well documented, however with changes in human practices, populations, and in climate, the fires are not always so good-natured as to pop open the seed cones and spare the soils. We are the county that hosted two back-to-back, state-record-breaking wildfires in 2014 and 2015, the Carelton Complex and Okanogan Complex. (One local grocery store had employees bringing in personal penny jars to keep the tills open on a cash-only basis, during a week in 2015 when neither electronic bank deposits nor physical mail could get through.)
The Okanogan valley and highlands extend right up into Canada. If anything, our climate is more celebrated on the Canadian side. From their perspective, it's the sunny vacation-land country of wine and fruit around Lake Osoyoos below the really cold northern taiga and tundra start. Their border town of Osoyoos is about 4 times larger than our Oroville, with faux-Mediterranean and faux-Spanish architecture for the summer tourists.
Canadians spell the name of the valley and tribe "Okanagan," with all A's.
The US side of the border is an equally beautiful area, but much less developed. We are considered the end of the road for most US commercial markets and freight routes.
It's not an easy place to make a living, especially if you don't have experience with rural infrastructure or weather-dependent planning. Old-timers describe the seasons as "Ice, Mud, and Dust." Some folks call dust season "smoke season," however between winter wood heat, spring orchard burn piles, and summer wildfires, there isn't really a season entirely free of smoke around here.
For natural builders:
Say goodbye to clay, sand, and straw. The soils here are mostly glacial or volcanic silts, glacier-worn rock rubble, and limited pockets of other geologic materials. Straw is a fancy import; traditional local building practices used mostly native timber and wetland reeds. While we do still teach cob and natural plasters, we are using imported clay through a local fireplace shop in Omak, and making do with "traction sand" or order masonry sand from either side of the border. It is possible to build straw-bale with careful planning for seasonal delivery and storage from adjacent grain-producing areas, or to truck-farm enough material for a stone-supported earthen oven or rocket mass heater. However, cob/adobe structures are largely inappropriate for this region due to both thermal performance and limited availability of materials.

We do have a lovely local asset: the White Cloud Dolomite Lime produced in Ellisforde/Tonasket is considered a choice limestone-sand aggregate by North American tadelakt plaster experts, from BC to Colorado at least. (White Cloud has no idea of this market for their stuff; they sell to farm and garden suppliers, and we currently get small orders through Bakers' Acres nursery.)

People and Neighbors:

"Washington" is a
really bad way
to describe where we live.
This is not Washington as most people know it.
Thinking we are "near Seattle" (5+ hours in summer, 8+ hours or impassable driving conditions in winter) is only slightly closer than mistaking us for Washington DC. We do have a lot of Seahawks fans, and our closest US airport uses Seattle as its transfer hub. It's not quite as bad as thinking that Taos, NM is near LA. More like thinking of a farm an hour outside Syracuse as "near NYC," or Appalachia as "near Pittsburgh.")
Okanogan County has the lowest income, per-capita, in Washington State. Like many low-income areas, it has a fascinating alternative economy: social capital, gifts, barter, nepotism, small-town politics, and the combined efforts of old timers and new energy are fully employed in connecting sparse year-round industries, tax-funded programs, and seasonal windfalls into viable economic communities. Our social safety net is not made of durable synthetic fibers rated for load - it's more of a hungry, constantly-shifting mycelial network, like the hidden roots that feed a wild mushroom patch.
Listed, full-time job opportunities are rare, and mostly limited to tax-funded organizations who are required by law to post openings and hire the most-qualified applicants, or to specialized skills like medical careers. Seasonal work or part-time gigs are much easier to find, especially if you have solid work ethic and relevant skills for rural or small-business tasks.

Full-time jobs around here tend to go to folks connected with "old families," for example one of the gals who works at the hardware store is raising the 5th generation of kids on their family ranch. Other businesses hire full-time from their proven seasonal crews, church family, or fellow members of public safety and community volunteer organizations. As Mary Stewart described nepotism in one of her novels, "You may not get the best and the brightest, but you generally get someone who can be trusted to do the work, and who you can get back at the way it hurts if things go wrong."

The Okanogan-Colville and Okanagan Band
are some of the original neighbors around here, living proof that human beings can thrive here long-term. They share information through online sources, local museums, historic societies, schools, and other public venues, and are highly involved in local community services. We cannot speak for them, except to say that we are big fans.
Here are some of their public, online pages:
https://okib.ca/about-us/our-history
http://www.okanogancountry.com/arts/heritage/
http://www.bigorrin.org/okanagan_kids.htm
http://www.native-languages.org/okanagan.htm
Erica was excited to find a c. 1980 manual called "Ethnobotany of the Okanagan-Colville
Tribes
" that was produced by a museum in British Columbia, with extensive interviews and notes about traditional uses for local plants (food, medicine, crafts, etc.). We do have the author's permission to share this with folks interested, such as our local permaculture study group. https://permies.com/t/53453/
Okanogan
-Permaculture-Study-Group
We are currently in conversation with some of the tribes' history, archaeology, and public-education folks about a closer relationship. Erica is hoping to tie in somehow, to help preserve the living tradition of locally-adapted winter shelters and fine-tuned land stewardship. As that relationship develops, we may be able to connect another set of allies into ongoing efforts to preserve climate-adapted traditional knowledge.
Our long-term work in preserving traditional knowledge has often been supported by the not-for-profit sponsorship of www.7fires.org. For tribal members wondering if we are worth the risk of disappointment, Tammy Van (
[email protected]
) may be able to speak for our integrity and our family/mentors.
Seven Fires can also take donations for the Living Legacy Fund, if you'd like to contribute financially. This fund is not restricted, but as donations come in, we may be able to do more with sponsored travel, scholarships for tribal members, insurance for big events and collaborations.
Our local volunteer fire department, OCFPD12, is Erica's "home team" for community safety and public work. https://www.facebook.com/OCFPD12/
The fire image you see on our Facebook page is probably from the Carleton Complex; we had several fire fighters out on resource as part of that fire fighting team on the day the fire broke containment and ran 30 miles in one day. Our tender drivers got some alarmingly fascinating photos around that time. (Tenders are usually slightly back away from the main action, re-filling water for the attack engines, but sometimes the fire comes to them.)
How our Okanogan home connects to our larger world:
These conditions are a perfect testing ground for building resilient communities to survive the Long Emergency. It takes neighbors coming together to make the most of what we have, diversify our farms as California produce gets unaffordable, and protect our natural resources against the days when propane, oil, and electricity may not be affordable either. We love and appreciate, but can't depend on, outside help.

Aspiring "Survivalists," meet the Survivors. For remote rural areas, old-fashioned self-reliance is already business as usual. Living sustainably, sourcing your food and daily needs from your immediate farm or neighborhood - here it's not so much a philosophical ideal as a common-sense survival strategy. We are a community where old back-to-the-landers, old veterans, old farmers, and young people who don't have much patience with being pigeonholed into just one of those three categories are working together, building a living library of shared solutions to problems that are not new, and not likely to go away.

We have joined a lot of interesting conversations in our specialties involving earth, fire, natural materials, and permaculture design (permaculture was once memorably defined as "going native for white people"). We swap insights about climate-appropriate design, and customization for local conditions, with climate-sensitive builders and community organizers in many regions. Conversations that may be particularly relevant to this climate involve builders and land stewards in Mongolia, Kazakhstan, the Arctic and nearctic, Morocco, Australia, New Zealand, and South Africa, as well as closer to home in Montana, Idaho, and the California Sierras.

This white granite "weather rock" pictured above is due south of my front door. (Google "Weather rock" if you don't know how they work.)
This is our mountain.
Our 'native land' is much larger - for Ernie it's the whole world ocean, anywhere people depend on the sea's mercy and bounty to sustain their families, those are his people.
For Erica, it's wherever people speak her language, a pattern language of underlying natures and living connections that build a greater whole. Her family centers include the West coast, Midwest, New England, and several pockets of Europe; her words of wisdom are collected and stolen (as corvids do) from every corner of the world.*
This is our home, where we plant our feet and rest our heads.
From this base, we tend our world.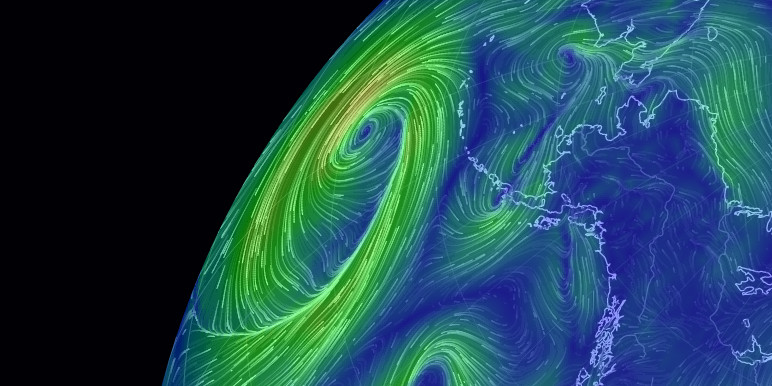 earth.nullschool.net



Yours,

Erica W
*The "word doctor" indulges in a little more of her favorite medicine:


Corvids are the family of birds that includes magpies, jays, crows, and ravens. They are intelligent, family-oriented, noisy, nosy, and not entirely trustworthy.
The sort of farmer who hates corvids may also believe that God gave two-legged people the right to control our petty kingdoms regardless of the nature or needs of other inhabitants... the sort of leaders who hate ravens may also believe that the proper order of things is Idea, Plan, Orderly Action, Predictable Result.
Corvids are war-birds and nuisances, and we delight in the understanding that no plan survives contact with the enemy. But we are also good at turning road-kill and winter waste into shiny black feathers and fast-acting fertilizer. The world would be a fouler place without us around to warn the scouts and gobble up the ugly pieces.


Erica's mother and paternal grandmother raised her on stories of one grandaddy who called his children back to camp in the voice of a crow or raven, and another great-grandfather's Irish-style poetry penned in the North Woods piney and dairy country under the name Coyote Bill.

Erica's mother speaks Spanish, English, Russian, and Esperanto.

Erica's family names include both Campbells and McDonalds (both sides of the Glencoe Massacre). German Ritters and Irish McCafferys, duty and music. Braggs, Dodges, Coles, Coolidges, Mayflower settlers, immigrants and old settlers. Dirt-farmers and pirates so poor their names were forgotten before they died, and kings so ancient they only needed one name (or earned unfortunate two, in the case of Ethelred the Unready).


Erica is a lazy linguist, most fluent in English-to-English translation. However, early exposure and forgiving audiences/collaborators have allowed her occasionally to teach science and hands-on skills in her second-through-fifth languages: Spanish, French, Darija and other local languages. She collects antique words and teaching-phrases from her ancestral people and home places, including the lower Columbia (Chinuk-wa), Scots, Old English/Old Norse, Latin, French, Dutch, and Indo-European peoples; and from mentors and chance-met teachers from other traditions including Japanese (aikido, ken-do), Chinese/Korean, Saami, Aleut, Hawaiian and Pacific Islander (Maori).


Both of the "trickster" family lines mentioned above included grandfathers who claimed we were part Indian when drunk, and denied it when sober.
Although we may never be called to un-bury those damaged roots, we can honor the shared history that brought us here, and reach out as partners (mushroom-networks rather than direct roots, if you will).
Even the most rotten, no-good experiences are better than "good for nothing:" right caretakers and microbial partners can turn the bloodiest history into rich soil for the health of future generations.


Good judgement comes from experience. And some of that experience comes from bad judgement.